Seeds are now shipping for the 2023 growing season!
Call today to place an order. Cultivated by farmers for farmers. We are here to help you succeed from seed to harvest!
Feminized Seed
Building on over 25 years of organic, ecological, and sustainable farming experience, Mystic Farms has been developing High-CBD Type III hemp genetics since early 2017 and has developed 2 flagship varieties for the hemp farmer. All of our seed production is done with organic practices and is designed to provide vigorous field production plants.
---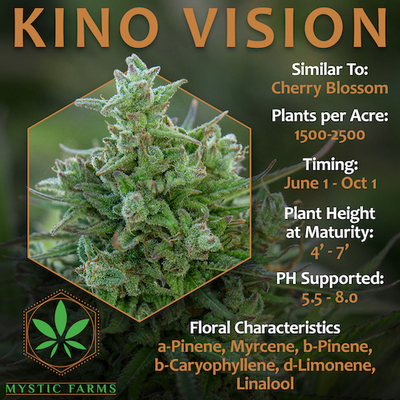 KINO VISION
When we created Kino Vision, we knew that the northern latitude states along with high elevation would need to plant varieties that could be harvested by late September. Kino Vision will flower in 6 to 7 weeks and often outgrows its competition during the vegetative state. The terpenes resemble a fruity and sweet aroma. We often see this variety reach 2lbs per plant when it is taken to maturity. The early pink pistils and aroma make her very easy to identify in the field. We recommend that this strain be planted in early June and harvested no later than the first week of October.
---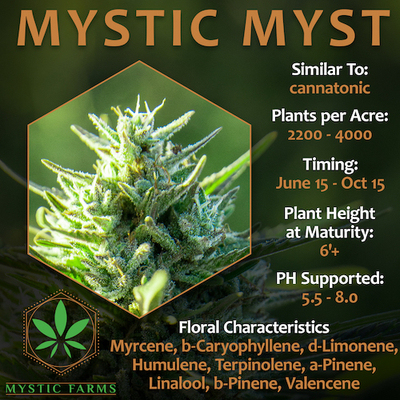 MYSTIC MYST
Mystic Myst is our staple variety. She is mold and mildew resistant and develops very dense flowers. This variety thrived in 6 different states across the country in 2019 and has become our work horse here at Mystic Farms. The tight node spacing and vigorous vegetative growth allows for high yield. This strain is more for the biomass farmer as its terpenes have more of an earthy fragrance. Extractors across the country have often commented on how much they like running this variety.